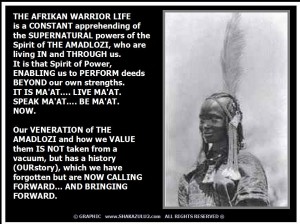 The Afrikan Warrior life is a CONSTANT apprehending of the SUPERNATURAL powers of the Spirit of THE AMADLOZI,
who are living IN and THROUGH us.
It is that Spirit of Power, ENABLING us to PERFORM deeds BEYOND our own strengths.
IT IS MA'AT.
LIVE MA'AT.
SPEAK MA'AT.
BE MA'AT.
NOW.
Our VENERATION of THE AMADLOZI and how we VALUE them IS NOT taken from a vacuum, but has a history (OURstory).
Which we have forgotten but are NOW CALLING FORWARD…
AND BRINGING FORWARD.
~~~~~~~~~~~~~~~~~~~~~
If you would like to subscribe to The ZULUzine please visit:
www.zuluzine.com/subscribe.htm